First Trip
(March 15th Through March 24th 2002)
Tragedy, Woe, Catastrophe! The Digital Camera is Dead!
Okay, so that was a little dramatic, however, I'm trying to put a light side on what is really an extremely bum thing for me. On the first night of the trip, in Garmish, we went out to a bar and my camera got dropped as I was handing it to someone else. Hence, there is only one picture of the entire trip. :-(
Thank you to the people who sent me e-mails in support of the website. I'm working on what my options are as far as finding money to replace or repair my camera in a timely way, but until then, the website is going to be a much more sparse place.

Angela, Amy, and Erica in front of the train station in Garmish, waiting for Abigail to come pick us up.
(The only picture taken before the tragic occurrence.)
I did buy some postcards, and the girls took pictures with their camera's, so I will probably try to scan some pictures in at the IES center, but probably not too many since scanning is so time consuming.
Glad to be back in Freiburg, although it was a good trip. I will put up a text summary of the trip ASAP.
**Update - March 27th - found a scanner that works, so I have scanned in my postcards.
Not great, but its something.
---
Freitag 15. Marz, 2002
Nach meine mundliche Prufung fahren wir nach Munchen und dann nach Garmish. Es war um 9 Uhr wann wir angekommt. Abigail hat uns abgeholt, und fahren wir nach Grainau und das Haus ihrer Eltern. Es war ein total schön Haus und wir danken ihn.
Okay, the German is just going to take too long, so I'm going to get caught up in English, and I'll resume doing both once I'm caught up...
After my oral test we went to Munich and then from there to Garmish. It was about nine o'clock when we arrived, and Abigail came and picked us up and took us to her parents house. It is a very nice house, and we all thank them very much for welcoming us into their home! When we got there we had a late dinner, and then we went out to an Irish pub. There was a Canadian guy doing covers of American songs, and it would have been a fun evening. However, while we were there I attempted to hand my camera to Cameron to get a picture of the group with me in it. Someone else reached in to help and somewhere in the process, the pass was fumbled and my camera got dropped. It does not work anymore. :-(
---
Samstag 16. Marz, 2002
Skiing!!! On Saturday we went skiing on the highest mountain in Germany called Zugspitz. There were seven of us skiing, three of which (Angela, Erica, and Megan) had never skied before. However it was a great day to learn because it was very warm and sunny. However, as you snowbums out there know, when its warm, the snow is not great, but it was still great to try skiing in the Alps, and the views were incredible!
Saturday evening Abigail's parents made all of us "All-American BBQ" food. Hamburgers, bratwurst, pasta salad, etc. It was great!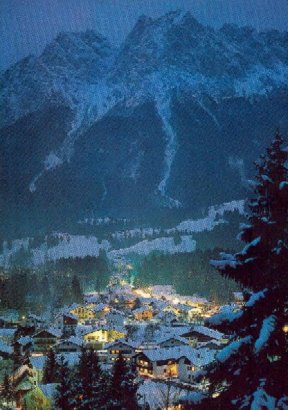 Postcard of the town of Grainau in front of the Zugspitz. Abigails house is somewhere on the left side of the picture.
---
Sonntag 17. Marz, 2002
Travel Day. On Sunday we traveled from Munich to Vienna. It was a long trip (with nice scenery), and when we arrived in Vienna we had some small adventures trying to find Hostel Ruthsteiner. However, we did without mishap, and settled in.
---
Montag 18. Marz, 2002
On Monday we visited Schönbrunn Palace. This is the day I missed my camera in Vienna the most! The castle was very cool, and the gardens and surrounding landscaping was awesome. In the afternoon we went and explored downtown Vienna, which was a good thing, because the weather was great on this day, and the other day it rained most of the day - not so good for city exploring! That evening we waited in line for cheap "standing-room-only" tickets to see "Schwannensee" (Swan Lake) at the Statoper. Very cool!

Postcard of Schönbrunn palace.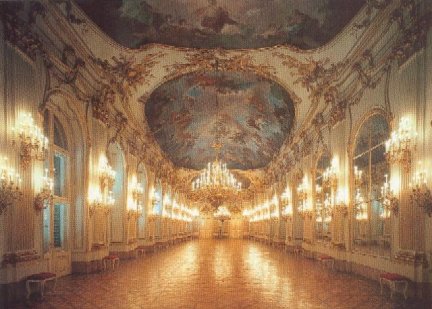 Postcard of one of the cooler rooms in Schönbrunn.
---
Dienstag 19. Marz, 2002
On Tuesday we had wanted to see "West Side Story," but spent the morning finding out that it was sold out. :-( It was very rainy, but that was okay, because we had planned to visit the Kunsthistorisches Museum Wien (Vienna Museum of Fine Arts), which houses the 4th largest collection of art in the world! We spent a few hours there in the afternoon!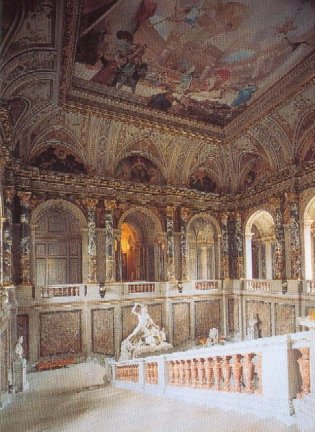 Inside the Art Museum.
---
Mittwoch 20. Marz, 2002
Travel Day. On Wednesday we traveled to Prague. It wasn't too long of a trip, but at this point we still had nowhere to stay. However, this turned to not to be a problem at all as we were immediately, upon stepping out of the train, bombarded by people hawking accommodations. I started talking to a guy who it turned out had an apartment for 5 people right in the middle of the old town. The location was perfect, and it was a great place to stay. If you are interested in staying at his place, I still have his card and information. By the time we got settled and had dinner we only had time to do a little wandering, however, after walking up to the river I think we were all very excited to be in Prague. The picture below is really what it looks like at night!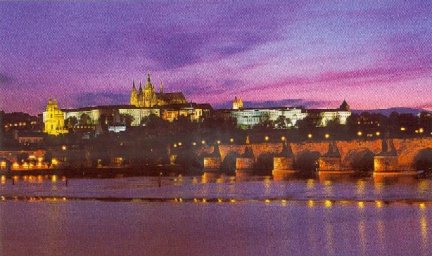 Charles Bridge and Castle Prague at night.
---
Donnerstag 21. Marz, 2002
On Thursday we walked down to Charles Bridge, a very famous, and very cool, bridge in Prague. We then walked up to Castle Prague, which has a great view back over the city. We didn't want to pay to go into anything, so we just walked around, and went into the church, which is free. That afternoon, Kelsey, Angela and I went to a string quartet with organ accompaniment and a soloist in a cool small church in the middle of the city. The program was:
Ave Verum by W.A. Mozart
Concerto Madrigalesco by A. Vivaldi
Ave Maria by J.S. Bach - Ch. Gounod
Eine Kleine Nachtmusik by W.A. Mozart
Xerxes: Largo by G.F. Händel
Sinfonia in G by A. Vivaldi
Ave Maria by F. Schubert
Concerto grosse in H minor by G.F. Händel
It was a very good concert and I think I'm going to make a CD of those songs when I get back to the States! Later, all five of us went to a very cool club near Charles Bridge. It is 4 floors, with each floor being essentially its own club with a different type of music - very cool! By the way, beer in Prague costs about 15 Crown (approx. $.45)!

---
Freitag 22. Marz, 2002
- Jewish Museum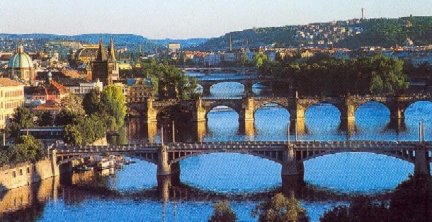 ---
Samstag 23. Marz, 2002
We had to be out of our apartment by 10 am, and our train didn't leave until 2:30, so we had to take all of our stuff up to the lockers in the main train station for the day. We then split up and did whatever shopping we wanted to do. There are lots of interesting things to buy in Prague, and despite things being pretty cheap, I ended up spending more than I had intended to in Prague.
We caught our train and had a relatively uneventful, but extremely long, trip back to Freiburg. On the whole it took about 11 hours by train back from Prague, and we arrived back around 1 am Sunday morning.