Second Week
(March 3rd Through March 8th, 2002)
Tuesday...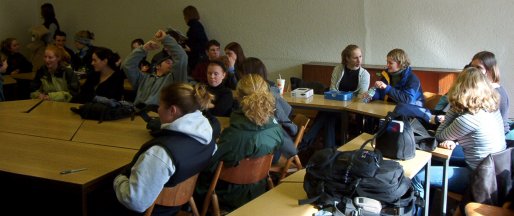 Am Dienstag haben wir eine Informationsveranstalltung über unsere Klassen gehabt.
(On Tuesday we had an "Info Session" about our classes.)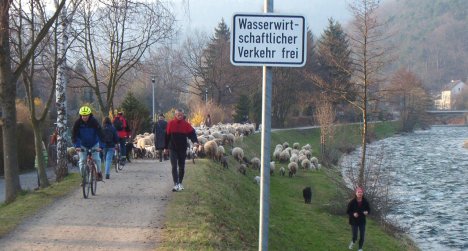 Ich besuchte auch Jeff, um die Website auf den neuesten Stand zu bringen.
Vor dem Haus haben wir viele Schafe gehört, deswegen habe ich ein Bild gemacht!
(I also went over to Jeff's room to update the website. While there, we heard many sheep passing by, so I took a picture!)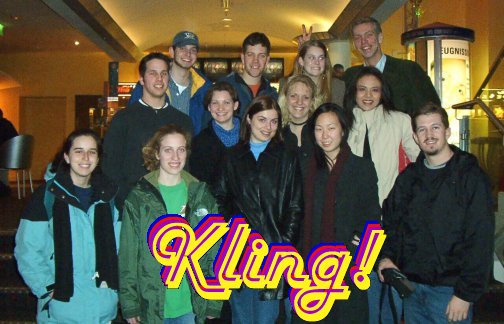 Unsere Klasse hat am Dienstag "Monsters AG" gesehen. Unser Lehrer, Kay Hug, sagt immer 'Kling.'
(On Tuesday night our class went and saw "Monsters Inc." Our teacher, Kay Hug, always says 'Kling.')
Nach den Film g

ingen

wir

ins

"Martin's Br

ä

u."
(After the movie, we all went to "Martin's Brau" - a brewery/bar.)
Wednesday...
Am Mittwoch gingen wir ins O'Dwyer's zum Karaoke-Abend.
(On Wednesday, we went to O'Dwyer's for Karaoke night.)
| | |
| --- | --- |
| | |
| Jenny, Amy, Angela & Kristin singen. | Jon the Mack.... |
Jeff, Amy, Kelsey, Angela, Ali und Nicole singen
"Sweet Child of Mine" von Guns und Roses
"Air Guitar"