Pentecost Break Travels (continued)
(May 17th Through May 28th, 2002)
Vienna
Monday, May 27th
On Monday I spent the day with Walter and Susie in Vienna. After a good breakfast at their pension, we just did a little walking around, and went to the Augustiner Kirche (Church).
| | |
| --- | --- |
| Susie and Walter in Augustiner Kirche. | |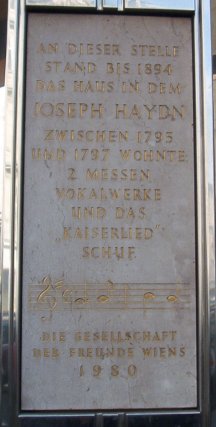 As we were walking around, we saw this memorial to Joseph Haydn. It translates: "In this place stood the house until 1894 in which Joseph Haydn lived between 1795 and 1797. He wrote 2 Masses and the 'Kaiserlied' here."
Then, Susie and I went for lunch at a great place called "Kurkonditorei Oberlaa" which is renowned for its deserts - rightfully so! I had a delicious Irish Cream Cake after an excellent lunch!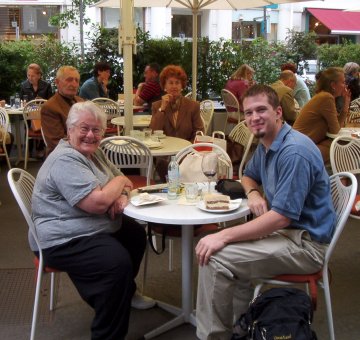 Susie and I enjoying lunch.
After lunch, Susie and I went and took a tour of the Vienna Staatsoper (Opera House), which has the largest stage in the world.
After the tour, as we were walking around, we watched some street performers in Stephansplatz.
| | |
| --- | --- |
| This is an awesome picture - he did a front flip over his four friends, and I managed to catch him in mid-air! | Other street performers. |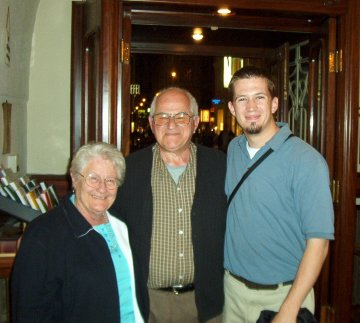 That evening, Walter and Susie took for dinner. I had rabbit for the first time - its very good!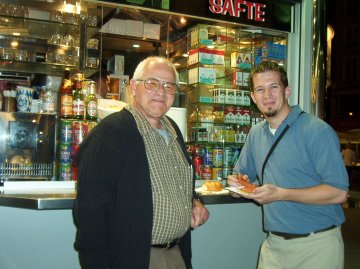 Then, after dinner, Susie said I needed to try a special Vienna wurst, so I got one of those too. I was very full!