Pentecost Break Travels (continued)
(May 17th Through May 28th, 2002)
Vienna
Thursday, May 23rd

Am Donnerstag kamm ich am 9 Uhr morgens in Vienna an. Ein 12 Stunde Zugfahr.
(On Thursday I arrived in Vienna at 9 o'clock in the morning. A 12 hour train trip.)


So, I went and found a hostel for the night, which took a while, but I ended up at the newest hostel in Vienna, the Westend, which was very good and conveniently placed right by the West Train Station.


First I went and found where my home choir at CSU was staying,
the Parkhotel Schönbrunn. But most of them were gone for the day
until 4:30 when they were meeting for dinner.
After I had dinner with them, I went to Karlskirche (St. Charles's Church) where they were performing.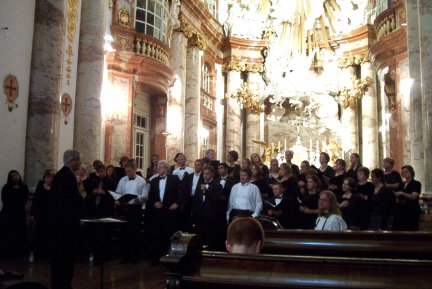 Warming up.
They started off singing outside to entice people to come in and listen.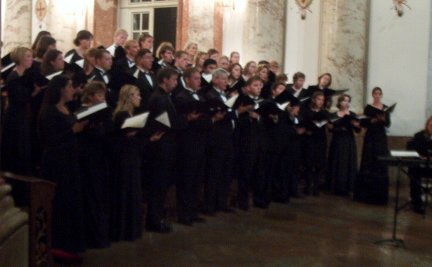 They sang a very nice concert, and I am glad I was able to go and see them perform.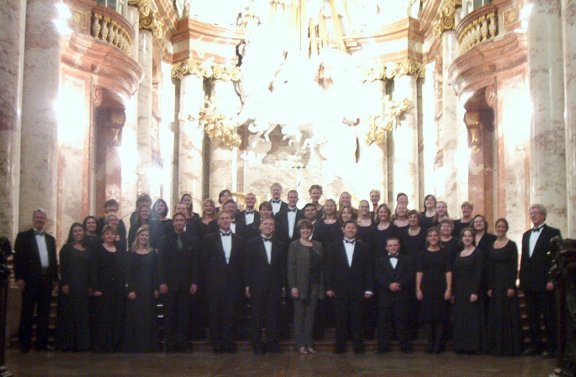 Group shot after the concert.
| | |
| --- | --- |
| Dr. Egbert and his brother (also Dr. Egbert) with their tour guide. | Emily and me in Karlskirche. |
Later we went out and explored Vienna.
| | |
| --- | --- |
| Colleen, Emily and me. | Tom, Glenn, Katie, Nick, Colleen, Lucas, and Emily at the "Peacock" bar in Vienna. |