Pentecost Break Travels (continued)
(May 17th Through May 28th, 2002)
Tuesday, May 21st
Am Dienstag habe ich nach Twistringen (süd von Bremen) gefahren um dort die Judische Friedhof zu besuchen.
(On Tuesday I went to Twistringen (south of Bremen) to visit the Jewish cemetary there.)
My Dad's mom, whom we call Oma, is Jewish and was born in Germany. She left with her family in 1938 due to the rise of Hitler and the Nazis. However, we believe my great-great-grandparents are buried in this cemetary, so I followed my brothers instructions from when he visited a year ago, and went to visit the cemetary. The next few pictures show the route I took. I took pictures, because they sure would have been helpful to me! Here's what I printed off of his website for directions:
'Go to the end of the street, turn right. Go two stop lights further, take a left. Go three rights further, take a right. Take the street all the way around. Then there will be a forest and a crossing in the road on the right. On the left will be the cemetery.'
Its about a 45 minute walk.
| | |
| --- | --- |
| The building on the left is the train station. The street on the other side of the third car, leading to the right is the first one he mentioned. | This is 'the end of the street' but it sort of keeps going. Really, you take a right at this light. |
| This stoplight here is the second stop light. Take a left. | The right on the other side of this house is the third right. |


Then you follow the long dirt road until you see this group of trees on the left. The cemetery is in the middle of it.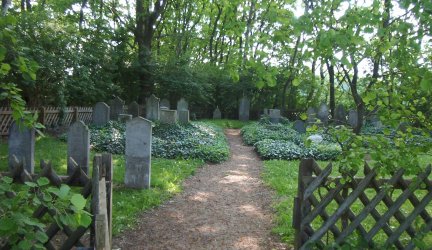 View through the gate.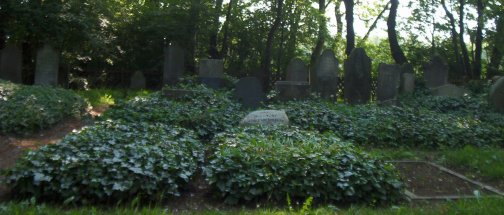 The closest set of graves has a rock which marks it "Three Russian Soldiers."
We believe my great-great-grandparents are buried in this plot, and that it is mislabeled.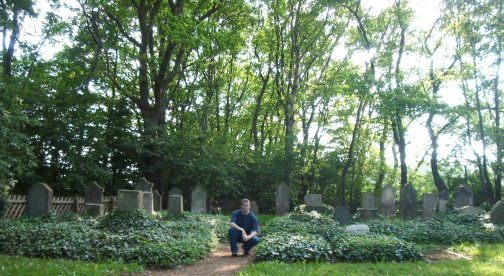 It was a very nice, peaceful day.


This is my walk back and shows the town of Twistringen.
It was a really nice day, and a great experience 'connecting with my roots.' I'm very glad I made the effort to visit. If you have interest in seeing more pictures, my brother took a bunch. You can see them here.