Fifteenth Week
June 9th Through June 15th
Thursday, June 13th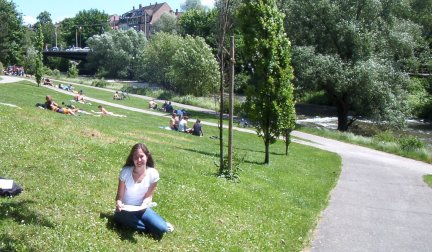 On Thursday, Ali and I went and sat by the Dreisam after lunch to get some work done. Its a popular place for students to study and sunbathe.
Friday, June 14th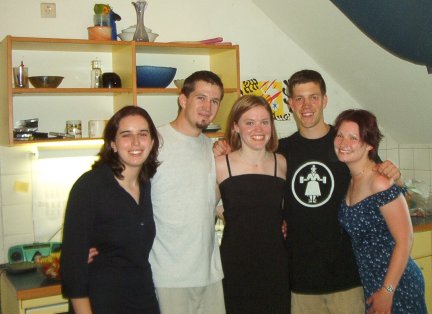 On Friday a few of us got together to have dinner.
| | |
| --- | --- |
| Here's Katie! | Johannes being goofy while Katie gives "bunny ears." |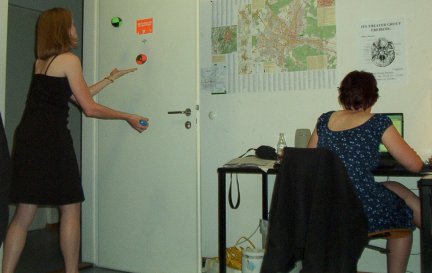 After dinner Nina proved to me she could juggle (with help of the door) while Katie checked her e-mail.
Saturday, June 15th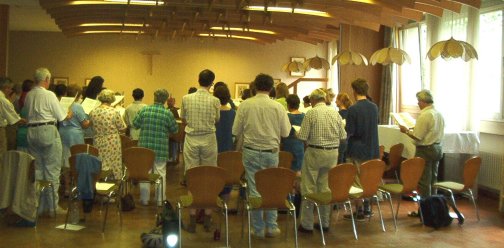 On Saturday, Nina, Jenny and I had rehearsal for choir.
ALBAN STOLZ DISCO #2!!! On Saturday evening I went to the second Alban Stolz disco of the semester.
| | |
| --- | --- |
| Ali, Kelly, Ricky, Amy and Kristen | Amy talked Ricky into dancing with her. Go Ricky! |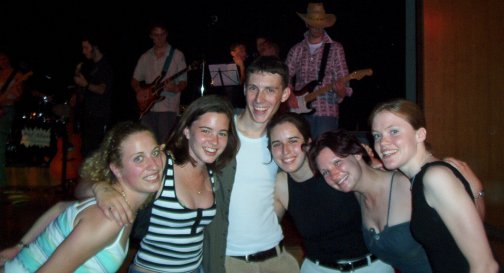 The night started with a band which Jeff joined playing for a while.
"Rockstar Jeff"

Kristen, Jeff and Ali
Then we went to the actual "disco part"...

Party pic

Full year Jeff having some success (not totally getting the cold shoulder)
with a german girl.