Easter Break
(March 31st - April 7th)
To See An Alternate Page with pictures of Crete and the group that went there, click below.

Over Easter Break two friends from back home, Andrea & Jen, visited me from Great Britain. Jen is studying this semester in Whales, while Andrea is studying in Scotland. They both arrived on Sunday evening.
Monday, April 1st, 2002 (April Fools Day!)
We went to the ruins at Waldkirch. It was a very nice day, and after we visited the ruins we went on a nice hike. We then sat on a grassy hill for a while and enjoyed the weather. Unfortunately, the second thing of mine to get broken happened while Andrea and I were messing around throwing grass at each other, and my gold chain got broken. :-(
After that we walked around the town of Waldkirch for a while, and then back to Freiburg. Went and saw the inside of the Münster that evening, and then back to Vauban for dinner.
Tuesday, April 2nd, 2002
Tuesday we spent in Freiburg. We went to Münster Platz and did a little shopping and had bratwursts! We then just went to different shops in Freiburg and just walked around. Tuesday evening we visited Vaubar (the student bar in Vauban) and had a couple drinks.
Wednesday, April 3rd, 2002
Jen left in the morning, and Andrea and I took her to the train station. However, it was very early, and we had been up very late, so we went back to Vauban and slept! Later, Johannes, one of my flat-mates, went with Andrea and I to Stusi Bar (another student bar) for $.50 shot night. We played cutthroat pool (a three-player pool game) where loser had to buy the next round of shots. It was a fun way to play pool!
Thursday, April 4th, 2002
We slept late again on Thursday, and then went on a hike near Vauban. We sat up on a hill which overlooks Freiburg, and played Chinese Checkers on Andrea's travel-set. We then went back and had dinner, and later went online and learned a new card game, and went down to Vaubar and played it.
Friday, April 5th, 2002
On Friday we went to Basel, Switzerland for the day. With the RegioKarte (the local public transportation pass) it costs about $6 round trip to Basel. Not bad for going to another country! Basel is a pretty cool city, and I wish I had pictures to show! Fortunately, I have one picture, courtesy of Kristin and her digital camera who visited there a few weeks previously...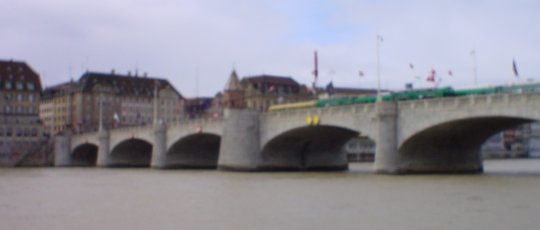 Der Rhein fließt durch Basel.
(The Rhine flows through Basel.)
On the far side of the bridge was a toy shop where Andrea and I bought juggling balls which light up! When we got back to Freiburg that evening we played with them outside in the dark!
Saturday, April 6th, 2002
Saturday, we headed to Strassbourg, France. Round trip tickets with the RegioKarte cost about $15. When we went, we had just missed the previous train, so instead of waiting 2 hours for the next one, we took a train halfway to Offenburg, and hung out there for an hour. Offenburg is a pretty small town, but its pretty typically German, and doesn't have very many tourists (didn't hear anyone else speaking English there). It also has a very beautiful park.
We then moved on to Strassbourg, and had a nice afternoon there, just wandering around looking at shops and the cathedral. I also have a picture of Strassbourg, again courtesy of Kristin...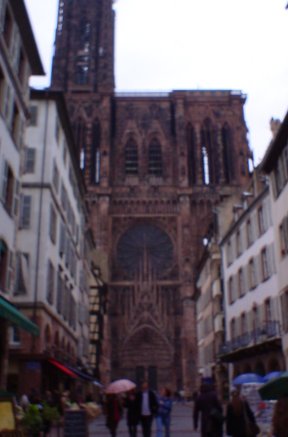 Der Strasbourger Dom.
The Strasbourg Cathedral.
Before leaving, I had to make sure I had a croissant...whats more French than a croissant? :-)
That night we went to Crash with Charlene. It was a different type of night for Crash in that they were playing techno music instead of heavy metal.
Sunday, April 7th, 2002
Sunday was kind of a bum around and pretend to do homework day. Just getting ready for the week. All-in-all, a good Easter Break!