Berlin Trip
(April 26th Through April 28th, 2002)
Camera Story:
After a month and a half (41 days) without my camera, I finally got it back just in time to go to Berlin! (To read about how it got broken, go here) What ended up happening is that they had to send the camera away to be looked at, however, there are very few places in Germany that work on HP Digital Cameras, so they were very backed up, and weren't able to look at it quickly. When they did, they apparently determined that it was unfixable, and instead of repairing it, they replaced it with a refurbished one of the exact same model. For some reason, this cost 52 Euros, but that's not nearly as bad as it could have been. Anyway, it was 52 Euros more than I wanted to pay, especially right now, but I'm just happy to have it back. Sorry I haven't kept up with things the last two weeks, but have had very little time between homework, classes, play rehearsals, and other activities.
Update:
Before I do Berlin stuff, I will just give a quick update of things in the last couple weeks: Because we only really had two weeks to prepare the show to go to Berlin, I spent a lot of time in rehearsals. I also joined the Johannes Kirche Chor (Johannes Church Choir) where we are preparing to sing Franz Schubert's Mass in B-Flat-Major at the end of June. Also, with the theatre class, I've seen a few plays - "Woyzeck" and "Parzival." I have of course visited a few more local (night life) places! And finally, I have started to feel like I'm actually living here, and settled into something of a routine, which is nice. Homework is like homework always is - a drag, but its good, because its all in German, and I know its helping my German. Well, that's all I can think of that's of any interest. Now on to Berlin...
Berlin: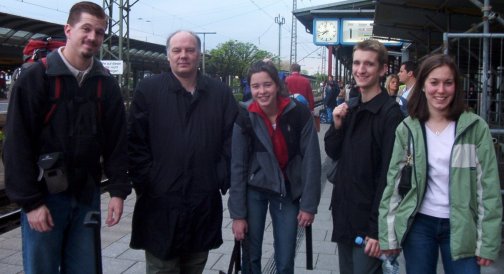 Wir haben Freiburg am 26. April um 8 Uhr gelassen und sind nach Berlin gefahren. Es hat sieben Stunden mit dem Zug gedauert.
(We left Freiburg on the 26th of April and went to Berlin. It was a seven hour trip by train.)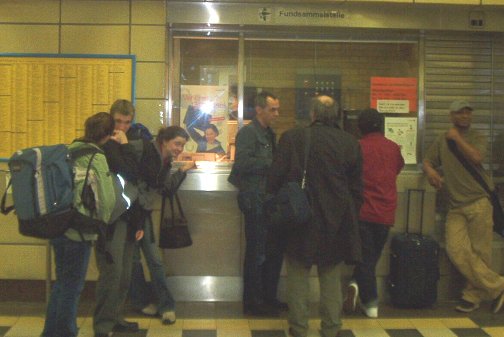 Wir mussten uns in Hannover umstiegen, und wir haben auf den erster Zug unsere Requisitentashe gelassen.
So wir mussten die Fundsammelstelle in Berlin besuchen.
(We had to change trains in Hannover, and we left our props bag on the first train.
So we had to visit the 'lost and found' counter in Berlin.)

Freitag abend haben wir die andere IES Gruppen bei IES Berlin getroffen.
(On Friday evening we met the other IES groups at IES Berlin.)


Ali und Kristen bei IES Berlin.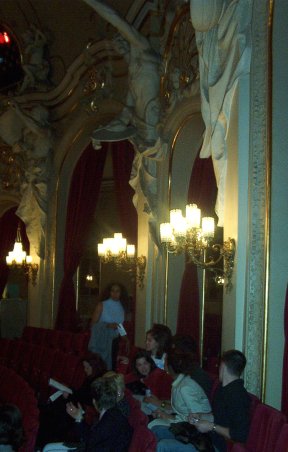 Spater am Freitag gingen wir nach "Der Traum des Minitaurs", ein Ballett.
(Later on Friday we went to "The Dream of the Minitaur", a ballet.)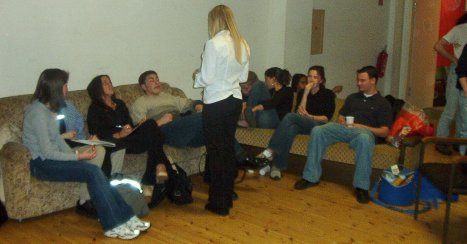 Am Samstag haben wir Übung gehabt. Dieser Bild zeigt uns drausen die Theater warten.
(On Saturday we had rehearsal. This picture is us waiting outside the theater.)

Weinachten mit unsere neue Requisiten!
(Chistmas with our new props!)

Alex, Kristen und Ali
---
Plays from Berlin - use the links below on the left to load the pictures in the window below.
---
Nach die Theaterstücke, gingen wir zurück nach IES Berlin für ein Barbeque!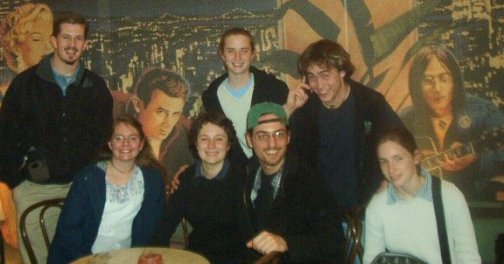 Später ginge ich mit Elizabeth, Jytte, Molly, Jacob, Scott, and Mandy nach eine Cafe zum Nachtisch.
(Later I went with Elizabeth, Jytte, Molly, Jacob, Scott, and Mandy to a Cafe for desert.)
Nach die Cafe ginge ich zu eine Party.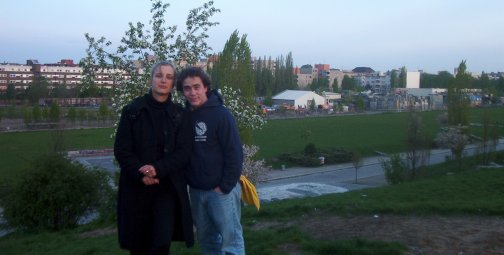 Nach die Party am Sonntag Morgen, Scott und Laura haben mich Mauer Park gezeigt.
(After the party, Scott and Laura showed me Mauer Park.)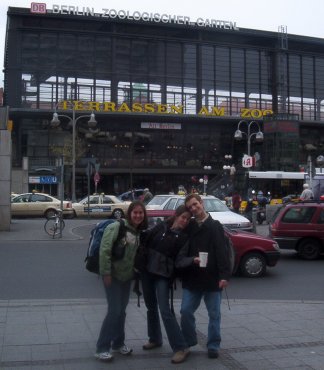 Lassen Berlin.
(Leaving Berlin.)